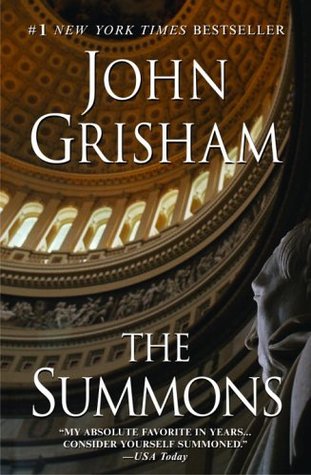 John Grisham is back to Ford County, Clanton, Mississippi, a fictional place where his first novel 'A Time To Kill' was set. This time, the protagonist is Ray Atlee, a law professor of University of Virginia who recently had a bad divorce. The story began when his father, Reuben V. Atlee, a well-respected judge in Clanton wrote The Summons to call his heirs, Ray and his alcoholic younger brother Forrest to come to his study and settle his estate.
Ray reluctantly re-visited his childhood home as his father summoned him. Unfortunately it is too late for him to meet The Judge as he found him had no longer breathing in his study. The shock is continued as Ray found three millions of cash in The Judge's study that was not included in his father's last will. The story line then continues as Ray, who becomes his father's estate executor, try to protect and find out where was the money came from.
I must admit that the plot was not exactly well-connected with a lot of unrelated fragments here and there as well as unnecessary scenes such as Ray's effort to figure out the source and validity of the money by gambling in several local casinos, tried to buy an airplane, and even hired a private investigator as he became paranoid of being followed by someone who knew the obscene money. The pace was slow and not really a page-turner like Grisham's previous novels. The plot twist at the ending was also somewhat predictable and leave many questions unanswered. It was really unsatisfying.
If you are a Grisham's reader and enjoy his previous legal thriller masterpieces such as The Firm, The Chamber, The Street Lawyer, or The Testament, you will find this book disappointing. The storyline was lack of suspenseful crime scenes and thrilling legal issues that are Grisham's strength. The characters of this novel were also less developed and are not as captivating as Grisham's previous wonderful classics. The Summons is certainly not the best of Grisham.